W.I.N.S® is a highly abrasion-resistant pneumatic conveying system.
Double Containment
No Product Contamination
Process Visibility
All components are manufactured from heavy wall borosilicate glass tubing, offering superior abrasion resistance and process visibility. The patented transparent armored Wear Indicator Notification System provides visual monitoring of each component's wear-life along with the advantage of double containment. The system comes with built-in grounding to eliminate troublesome static charge, and it is available in sizes to fit most new or existing applications. W.I.N.S® has proven to be a superior choice in conveying engineered plastics for automotive, appliance, and electronic industries, among others.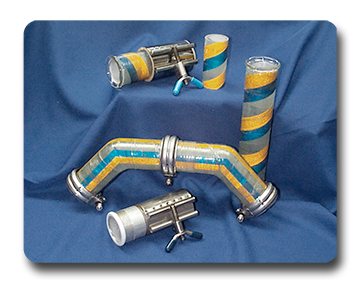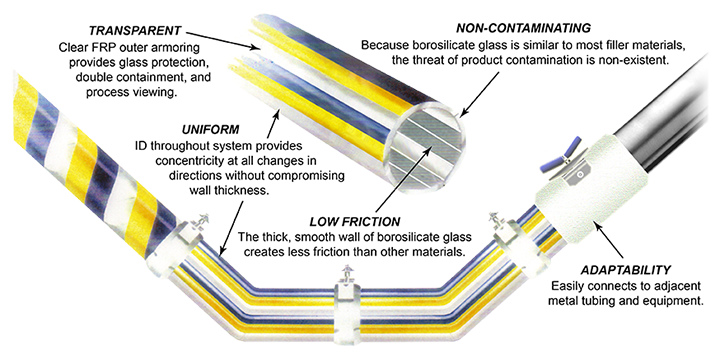 W.I.N.S® segmented 45º elbows can be a benefit to any abrasion-prone piping system. By scheduling into routine preventive maintenance, the downstream elbow can be rotated to the upstream position and vice-versa, creating new wear points.
Because W.I.N.S® elbows are mitered, they can be fabricated to fit a fraction of the area required with long radius sweep elbows while offering much longer wear life.
All of the elbows and laterals that make up the W.I.N.S® manifold system are interchangeable. This modular design allows simple replacement of the effected component rather than having to replace the entire manifold.